ACT Test Prep Fall 2017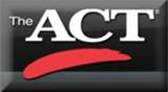 This course is designed to help students reduce their test anxiety and be better prepared for the content areas of the ACT.
General test-taking strategies and specific strategies for taking the ACT will be taught along with a review of the major content areas including English, math, reading and science reasoning.
Taking this class does not register you to take the ACT Test.
Register for the ACT Test.
Student Rules of Conduct.
(required reading)
Thursdays

Oct. 19 - Nov. 30
No class on Thanksgiving (Nov. 23)
6PM - 8PM
Tennessee Tech University
Bruner Hall, Room 126 & 127
Registration Deadline: Fri., Oct. 13th
Seating is Limited
TN Tech students should contact Sharon at sstevenson@tntech.edu or 931-372-3306 before registering.
Instructors teach from
Barron's ACT 36 Aiming for the Perfect Score
text book. You are NOT required to purchase a book for this class.
REPORT TO BRUNER HALL, ROOM 127 THE FIRST NIGHT.


Call 931-372-3306 or email sstevenson@tntech.edu with questions. We will send an email to the students with a parking permit and details on where to park Wed., Oct. 18.
IF YOU NEED TO CONTACT YOUR CHILD DURING THIS EVENT, PLEASE CALL UNIVERSITY POLICE AT 931-372-3234.